News
The screen adaptation of Funny Boy with Deepa Mehta
The Hungry Ghosts shortlisted for the 2014 Toronto Book Awards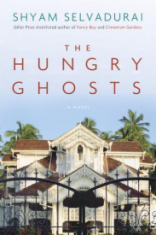 October 2014
Established by Toronto City Council in 1974, The Toronto Book Awards honour authors of books of literary or artistic merit that are evocative of Toronto and The Hungry Ghosts was one of the five finalists.
In honour of the 40th anniversary of these awards, each shortlisted book was also paired with a Toronto champion who promoted the book via social media and gave an introduction at the awards ceremony – Shyam's champion was filmmaker John Greyson.
Watch Shyam discuss The Hungry Ghosts in this special Toronto Book Awards author video - and see, too, John Greyson advocate for Shyam's work and for this "epic and personal" novel in particular.
The Power of Word honours Shyam's contribution to sexual diversity in the arts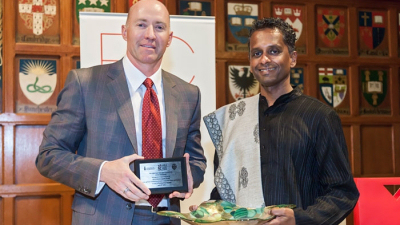 Toronto, April 2014 (Shyam is pictured receiving his award from Lawrence Spicer (left) of RBC.
More pictures »)
On April 24, 2014 Shyam was honoured, along with authors Waawaate Fobister, Patricia Nell-Warren, and Edmund White, for his contribution to advancing the cause of sexual diversity through writing.
The awards, celebrating The Power of Word, were presented at Hart House's Great Hall at the annual Bonham Centre Awards Gala. More than 200 supporters of the Mark S. Bonham Centre for Sexual Diversity Studies attended the gala. The event was made possible thanks to the generous support of RBC, the presenting sponsor.
The Hungry Ghosts is shortlisted for the 2013 Governor General's Award for Fiction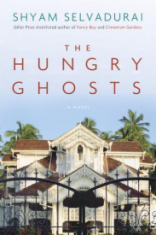 Ottawa, October 2, 2013
The Canada Council for the Arts today announced the list of finalists for the 2013 Governor General's Literary Awards, and The Hungry Ghosts is a nominee in the fiction category. The GGs are awarded in both official languages, in seven categories: fiction, poetry, drama, non-fiction, children's literature (text and illustration) and translation.
"Get ready for late nights!" said Robert Sirman, Director and CEO of the Canada Council for the Arts. "Great books abound among this year's GG finalists and you won't be able to put them down. Further proof of the prolific and potent Canadian literary scene."
'Triumphant return to literary landscape' on CTV's Canada AM
April 8, 2013: Shyam explains the Buddhist myth of hungry ghosts, and discusses the issues his book explores.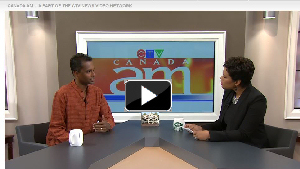 Literature, identity, politics and the Galle Literary Festival
Watch Shyam's interview during his curatorship of the Galle Literary Festival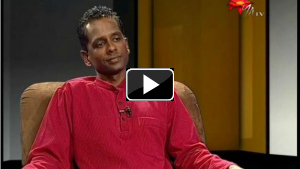 ---
Events
September 11, 2012
5:00-6:30 p.m.
Reading: Funny Boy and Cinnamon Gardens

---
Archived News & Events
November 7, 2012
5:00-6:30 p.m.

Buddhist Narrative and Poetry


Green College, University of British Columbia
October 18, 2012
5:00-6:30 p.m.

Pardon: Is accountability for past wrongs necessary for a person or nation to move forward?


Green College, University of British Columbia
September 27, 2012
8:00-9:00 p.m.
Trauma and Diaspora
Green College, University of British Columbia
September 10, 2012
8:00-9:00 p.m.
Reading: The Hungry Ghosts
Green College, University of British Columbia
| Home | Books | News & Events | About | Media | Contact |