Shyam Selvadurai was born in Colombo, Sri Lanka. Funny Boy, his first novel, won the W.H. Smith/ Books in Canada First Novel Award and the Lambda Literary Award in the US. He is the author of Cinnamon Gardens and Swimming in the Monsoon Sea, and the editor of an anthology, Story-wallah! A Celebration of South Asian Fiction. His books have been published in the US, the UK and India, and published in translation in France, Germany, Italy, Spain, Sweden, Denmark, Turkey and Israel. His latest novel, The Hungry Ghosts, was published April 2, 2013 in Canada, India and Sri Lanka.
Shyam co- wrote the screenplay for his first novel Funny Boy, for which he won the Canadian Screen Award and the New York Cinema Independent Award for Best Adapted Screenplay. Shyam's new novel Mansion of the Moon is a historical novel about the Buddha's wife, Yasodhara.
In 2016, Shyam had the interesting honour of having a spider named after him: Brignolia shyami, a small goblin spider.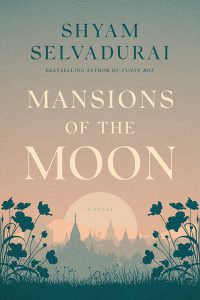 In this sweeping, at once epic and intimate, Shyam Selvadurai introduces us to Yasodhara, a woman of great spirit and intelligence, married to her cousin Siddhartha Gautama, an unusually bright and politically astute young man, who will later become "the enlightened one," or the Buddha. Mansions of the Moon traces the couple's early love and life together, and then the anguished turmoil that descends upon them both as Siddhartha's spiritual calling takes over and the marriage partnership slowly, inexorably crumbles. Eventually, Yasodhara is forced to ask what kind of life a woman can lead in ancient India if her husband abandons her—even a well-born woman such as herself. And is there a path she might take towards her own form of enlightenment?
Award-winning writer Shyam Selvadurai brings to life 6th century B.C. India in all its fascinating detail, depicting as well the great intellectual and spiritual ferment of the time that changed human thought, and whose ideas are still relevant today. Selvadurai also captures the intricate web of power, family and relationships that surround a singular marriage, and the remarkable woman who until now has remained a little-understood shadow in the historical record. Mansions of the Moon is an immersive, lively and thrilling feat of literary imagination.
More about the Book
Funny Boy—a Film by Deepa Mehta
Premieres on CBC and CBC Gem on December 4, 2020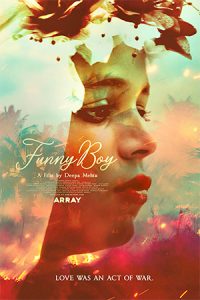 Funny Boy is the highly-anticipated dramatic feature from Oscar nominee Deepa Mehta. Widely known for her trilogy films, Fire (1996), Earth (1998) and Water (2005), Mehta's latest film is based on the best-selling Canadian novel by Shyam Selvadurai. Mehta co-wrote the screenplay with Selvadurai, with David Hamilton producing. Three-time Oscar-winning composer Howard Shore created the film score.
Shot on location and set in Sri Lanka in the 1970's and 80's, Funny Boy explores the awakening of sexual identity by a young boy named Arjie (portrayed by Arush Nand and Brandon Ingram). As political tensions escalate to a boiling point between the minority Tamils and the majority Sinhalese, a young boy comes of age in a society and family that doesn't embrace difference outside of societal norms. The film chronicles Arjie's struggle to find balance and self-love despite the absence of empathy and understanding.
Premieres on CBC TV and CBC Gem on December 4, 2020
Coming to Netflix on December 10, 2020, in the USA, UK, Australia and New Zealand
More about the film
"Shyam Selvadurai writes as sensitively about the emotional intensity of adolescence as he does about the wonder of childhood. He also paints an affectionate picture of an imperfect family in a lost paradise, struggling to stay together in troubled times"

— The New York Times Book Review
Funny Boy—a Book by Shyam Selvadurai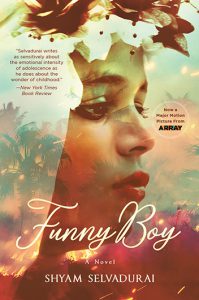 Set in the mannered, lush world of upper middle class Tamils in Sri Lanka, this deeply moving first novel, though not autobiographical, draws on Selvadurai's experience of being gay in Sri Lanka and growing up during the escalating violence between the Buddhist Sinhala majority and Hindu Tamil minority in the 1970's and early 1980's.
Arjie Chelvaratnam, at the age of 7, prefers dressing up in a sari and playing bride-bride with his girl cousin to cricket. When he is discovered by the adults engaging in this innocent fun, he is forced out of the world of the girls. A lonely outsider, he attaches himself to various sympathetic adults, whose own trajectories and dilemmas reveal to Arjie the difficulties of following ones desires. As the novel progresses, the civil violence and tensions mount bringing devastating consequences to Arjie's family and their sheltered world.
The journey from the luminous simplicity of childhood into the more intricately shaded world of adults—with its secrets, its injustices, and its capacity for violence—is a memorable one, as time and time again the true longings of the human heart are held against the way things are.
More about Funny Boy