About the book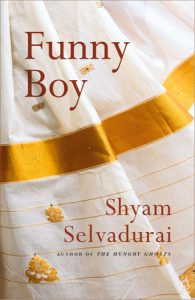 Set in the mannered, lush world of upper middle class Tamils in Sri Lanka, this deeply moving first novel, though not autobiographical, draws on Selvadurai's experience of being gay in Sri Lanka and growing up during the escalating violence between the Buddhist Sinhala majority and Hindu Tamil minority in the 1970's and early 1980's.
Arjie Chelvaratnam, at the age of 7, prefers dressing up in a sari and playing bride-bride with his girl cousin to cricket. When he is discovered by the adults engaging in this innocent fun, he is forced out of the world of the girls. A lonely outsider, he attaches himself to various sympathetic adults, whose own trajectories and dilemmas reveal to Arjie the difficulties of following ones desires. As the novel progresses, the civil violence and tensions mount bringing devastating consequences to Arjie's family and their sheltered world.
The journey from the luminous simplicity of childhood into the more intricately shaded world of adults—with its secrets, its injustices, and its capacity for violence—is a memorable one, as time and time again the true longings of the human heart are held against the way things are.
Editions
McClelland and Stewart, Canada, 1994
Vintage, UK, paperback, 1995
Harcourt Brace, US, paperback, 1997
Uitgeverij Wereldbibliotheek, Holland, 1995
Fischer Taschenbuch Verlag, German paperback, 1999
Bokforlaget Natur och Kultur, Sweden, 1996
Editions Robert Laffont, France, 1999
Samleren, Denmark, 1998
il Saggiatore, Italy, 2005
Citlembik Yayinlari, Turkey 2005
Kinneret Publishing House, Israel, 2000
Sarasavi Publishers, Sri Lanka, 2002
Distinctions
Screen adaptation with Deepa Mehta
Winner of the WH Smith Books/Books in Canada First Novel Award 1995
Winner of the Lambda Award for Best Gay Men's Fiction, 1997
Shortlisted for the Giller Prize, 1994
An American Library Association Notable Book, 1996
Reviews
"Shyam Selvadurai has brought back from his Sri Lankan childhood a glittering and wise novel. Funny Boy keeps repeating with quiet conviction that the human condition can, in spite of everything, be joyful. You are not alone, it says to the reader, I understand you. I was there. I remember."
— Alberto Manguel
"He spins a subtle web that holds readers captive…"
— Saskatoon Star Phoenix
"A powerful and beautifully written novel…"
— Literary Review (UK)
"Lyrical, moving, and deeply perceptive. This isn't the first coming-of-age story ever written, but I doubt there's been one quite like it."
— Halifax Chronicle-Herald